First set photo for upcoming The Predator movie revealed

If you're excited for the new Predator movie to release, then you're in a for a treat! Photographer Jarrod Au just recently posted an interesting pic from the set of The Predator. And it's not in the normal kind of light that you see our lovable alien hunter in. Apparently, when good old Pred isn't hunting, killing, or pulling Mortal Kombat-style fatalities on his prey vis-a-vis ripping out your spine, he's posing like a Japanese school girl. Take a look!
We can only guess what this shoot was about, but we damn well know that the Predator isn't going on a joyride with a bunch of humans, right? They're savage hunters of other races and species! Not weeaboo, peace-throwing aliens. Well, it is 2017, so we can only speculate what's actually happening in this situation.
The Predator has been a classic '80s icon with Hollywood revisiting the franchise many times throughout the past three decades. It's kind of weird saying decades since I still remember watching the original Predator in the theater when I was still a little kid. In fact, if you look it up, the original movie came out back in 1987 which was 30 years ago.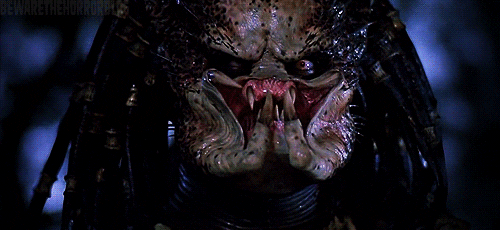 Why the Original Predator Kicked Ass
Since the original release, this badass hunter has had his own sequels, reboots, and even was pitted against the alien Xenomorph. They made a couple of those and none of these movies could stand toe to toe with the original. There was something so mysterious and powerful about the original Predator. Audiences saw how helpless our best-trained soldiers for that time were when faced against a creature that's both physically superior to a human and geared with technology far beyond our comprehension. It set the bar for both suspense, horror, and survival genre movies. I can't wait for this new one to release. Hopefully, it pays a better tribute to the original classic.
The Predator releases on August 3, 2018.