We want DEADPOOL!
Posted 10:54 pm on Tuesday, October 16th, 2012 by
Alger Alama
Yes, yes. We all know. I want him. You want him. We all want him. Who am I talking about? Well if you didn't read the title to this article you're either blind, lame, or Ray Charles – which…would make you blind. Anyways, yes it's DEADPOOL. He has a game that's coming out next year, and I myself cannot wait until it's released.
What makes Deadpool such a fan favorite? Well despite the fact that he absolutely LOVES to break the fourth wall in comics, he's also completely and utterly insane. Which is what makes him perhaps one of the most unique Marvel characters out there. Blessed (or cursed) with a healing factor and fighting abilities that rival that of our favorite mutant, Wolverine, Deadpool is not a slouch. He can kick ass and take names and can also talk your ear off with his random babble. He's been known to even confuse Spider-Man.
Everything aside, I know everyone is still asking if FOX is still going to make a Deadpool movie. The answer to that is still up in the air. It was stated back in 2009 that Ryan Reynolds would return to play the part of our favorite Merc, but nothing substantial has popped up since then. With the exception of that leaked script. Although scripts in Hollywood are usually rewritten or scrapped pretty quickly, which makes us question if the leaked script is still the same movie that they're going to follow. Let's hope that once FOX finally decides to move forward with the project, they at least keep Deadpool true to his comic origins with banter like this…
Marvel recently had Deadpool come to San Diego Comic in order to promote the Deadpool game, and the actor who was behind the costume pretty much nailed his persona…unlike some other wannabe Deadpools that were there. *cough* Anyways, here is a link to his highlights from SDCC 2012!!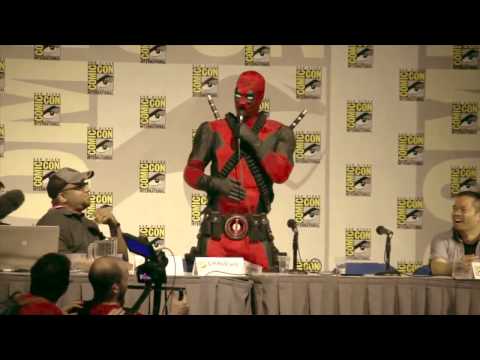 I think Deadpool needs to be in the spotlight more. Sure you can say that Iron Man is a genius, Hulk is the strongest there is, Captain America is the epitome of freedom, and Thor is a god. However none of them have what Deadpool has…and that's "a mouth". Of course that's coupled with insanity. And guns. Oh, and don't forget his sexy Katanas.
Alger Alama
Highly sociable and having been entrenched in Nerd\Geekdom since he was a kid, Alger has seen it all. During his spare time he loves to go out clubbing, sing karaoke, and attend parties. This Nerd is no wallflower. He'll always greet you with a warm smile and a drink in hand.
More Awesomeness Across the Network!